Edison Kennel has moved! We are now located in beautiful North Carolina!

For many years, Edison Kennel was in the forefront of breeding ten to twelve inch working Jack Russell terriers of the now "Parson" style. My focus was on the under terrier division. Then, in 1998, came the American Kennel Club recognition and the beginning of the Parson Russell Terrier as a breed, separated by a height of twelve to fifteen inches and distinct style of terrier modeled after the Reverend Russell's terrier, Trump. America then followed in the same path as Europe and Australia with the Parson Russell terrier.
It is almost 2008 and the AKC has now recognized the FCI standard of the Australian Jack Russell Terrier. It is not the same as the Parson Russell Russell terrier. Although this breed originated in England, it was exported, developed and a standard written in Australia. The Russell terrier has significant proportions and height differences, yet should maintain the spannability and instinct of the Parson Russell terrier. Edison Kennel is proud to be part of The American Kennel Club Foundation Stock and it's commencement in the United States.
All my terriers have been imported directly from Australia or from all Australian lineage. My first import came from Erica Wilkens of the world renown Malung Kennel in Victoria, Australia. Ms. Wilkens is Internationally recognized for her mating in 1988 of Dubbsville Bud with Malung Morag to produce the Malung Famous Four: AU CH Malung Jim Beam, AU CH Malung Orinoco, AU CH Malung Niniane Swynford, and AU CH Malung Laird of Joyreve. Generations of progeny have been shown with great success and even today a majority of descendents from these four terriers can be traced to an overwhelming majority of the Australian and European pedigrees.
I will always be indebted to Ms. Wilkens. This grand lady took her time and expertise in helping me select the best from her kennel for my foundation, a female named Mahkoolma Jack Moyesii. I have continued to take great effort to import terriers with either direct or complimentary lineage to the Malung bloodline.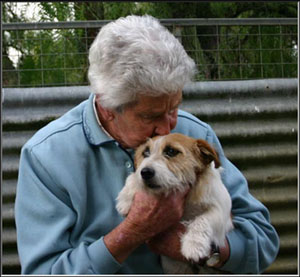 photo courtesy of Linda Donato
Erica Wilkens saying 'Goodbye' to Moyesii
I truly hope you enjoy the website and development of the AKC Russell Terrier at Edison Kennel. As with my Parson Russell Terriers, genetic testing is taken very seriously. I will continue to BAER, CERF, and Patella check all the terriers for the health of our breed.