CH Edison's Nick of Time is the "new kid on the block". Born in September 2003, Nick is quickly gaining the recognition he deserves in the show ring. In his first weekend weekend out Nick was BOW the first day, BOB the second day over two top ranked, seasoned, pro handled Specials and BOS over one of those same Specials and all from the Bred By Exhibitor class. His last weekend out in 2004 Nick went BOB both days over the pro handled specials.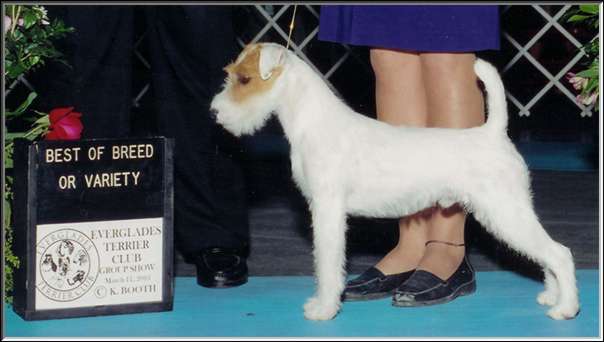 After he finished his championship Nick stayed home to grow up mentally and play like the puppy he still was. In January 2005, he came back out on the competitive January Florida circuit expertly handled by Beverly Wright-Osment for three weekends and took BOB three times among some of the top ranked competition in the country. In March 2005, at the Everglades Terrier Specialty Nick went BOB. The end of March, he took the breed both days in Ft. Worth, Texas, and once again with top ranked specials in the ring.


Below are photos of Nick during the middle of 2005.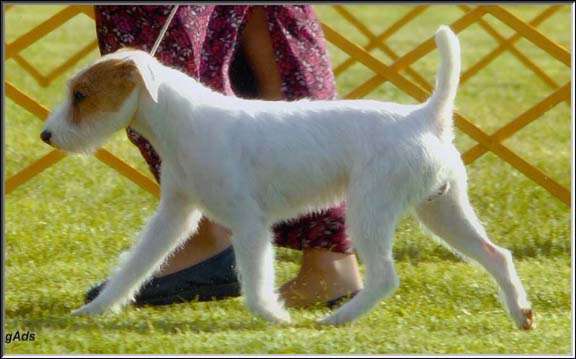 By July, with limited showing, CH Edison's Nick Of Time had risen to the number 7 Parson Russell Terrier in the U.S.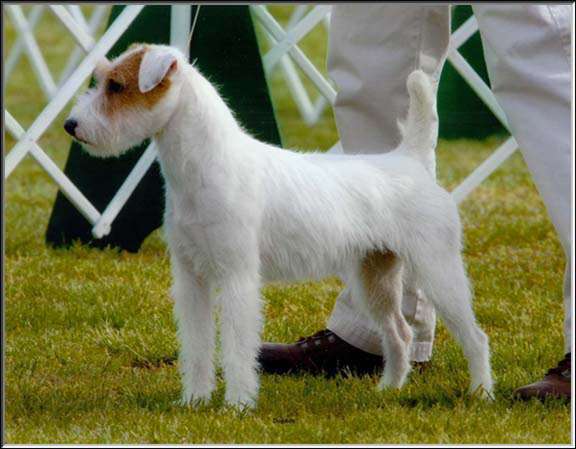 The 2005 Montgomery County Kennel Club show did not host ideal weather for an outside dog show. It rained all week which caused mud, slick footing and a show ring that was far less than ideal. Despite the mud Nick glided around the ring in the company of the best Parsons in North America. He stacked perfectly (see photo below) and gaited beautifully. When the judging was over CH Edison's Nick of Time, perfectly presented by Beverly Wright-Osment, walked away with the First Award of Merit.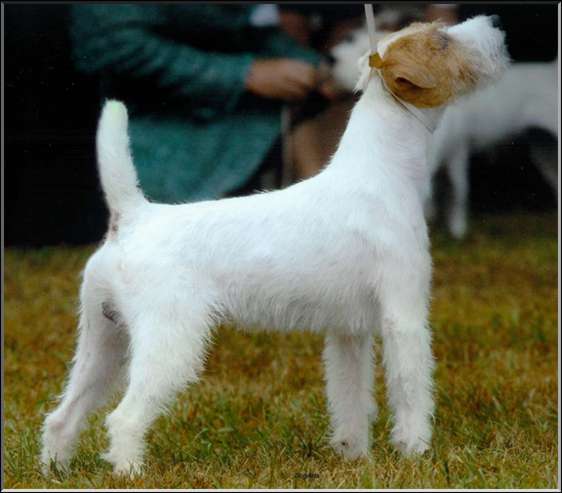 The 2006 Eukanuba Invitational was in a large, crowded building in Tampa with lots of echos, speakers blaring and cameras. This was Nick's first experience showing on carpet in a building with the sort of crowds and noises that go hand-in-hand with a nationally televised show. Nick was unflappable, and at the end of the breed judging, Nick and his handler Beverly Wright-Osment were presented with an Award of Merit.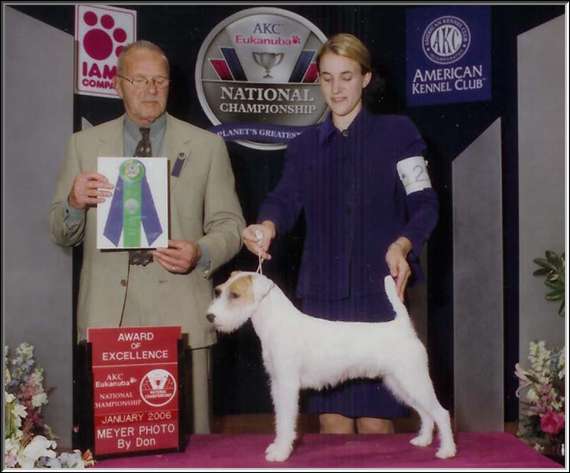 On to Portland, Oregon where Nick was BOB two out of the four days of showing and the only dog to win the breed twice at that 4 day cluster.
In addition to Nick's BOB wins, he also was awarded a Group II in a very large and very prestigous terrier group.

The photos below are a few candid shots of Nick and Beverly in Portland taken by Karen Hartman.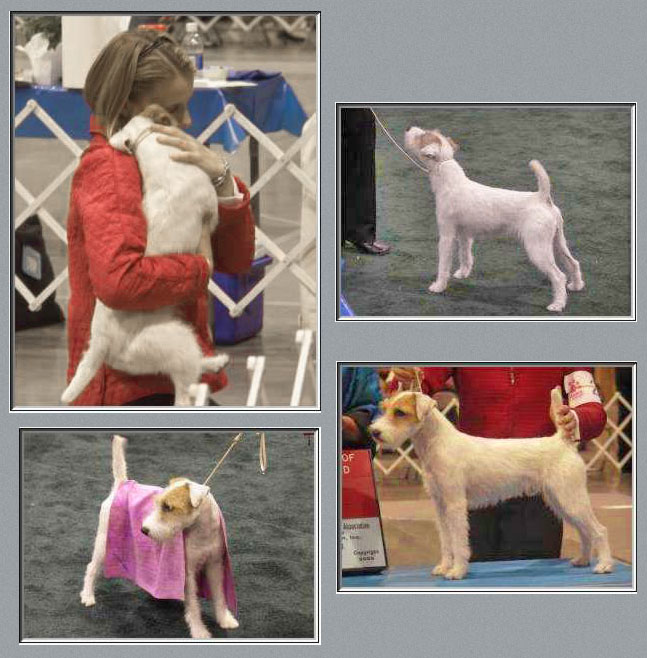 It seems that time and maturation have been great for Nick. He was home with Bev for a few months romping and playing throw my toy from sunrise to sunset. In June, he entered the the Orlando, FL circuit winning Best of Breed among top ranked Parsons and a prestigious Group II among some outstanding terriers (see below). I love this photo because his handler, Beverly Wright-Osment was the trainer of all the Toto terriers used in "The Wizard of Oz On Ice!"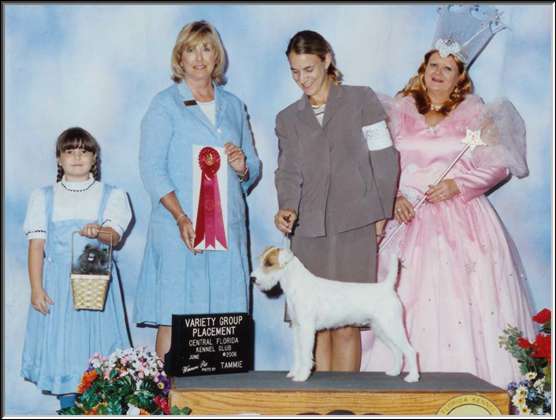 On November 10, 2006, Nick entered the World Dog Show Parson Russell Terrier ring and was shown to perfection by Beverly Wright-Osment. He stood like the polished professional he is, displaying his wonderful angles and moving gracefully around the ring on a loose lead. Nick and Bev were a wonderful team to watch, and the memories of his beauty will always be embedded in my mind. (Photos of Nick in Poland below)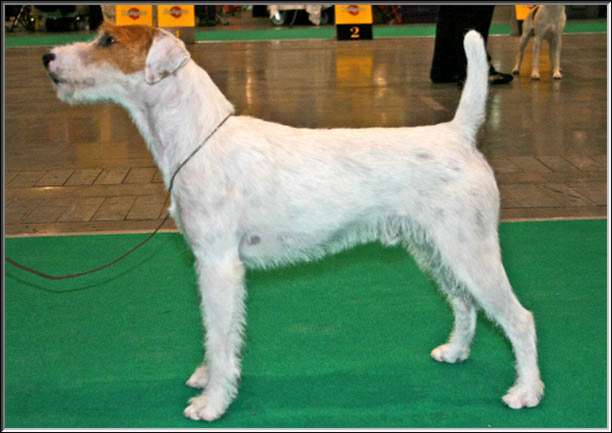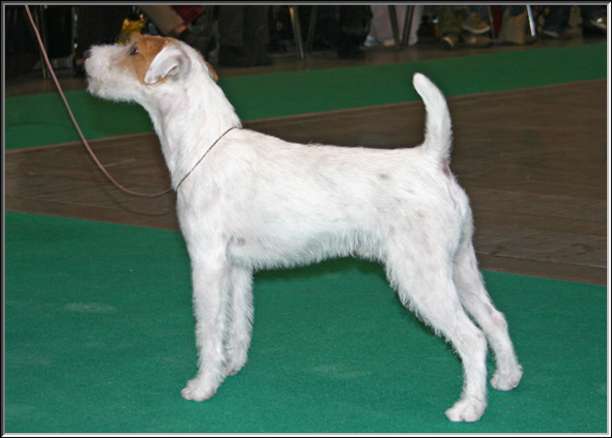 Nick has a gorgeous rear and a perfect front with layback of scapula and a laid back, long upper arm so often lacking in this breed. His chest is unbelievably small and compressible. His coat is dense, hard and straight.


Nick is out of CH Edison's Tennessee N' Time and, therefore, his maternal grandsire is Foxwarren Dalesman. Nick's sire is the # 1 producer of AKC champions CH Posey Canyon Summer Storm SE. Considering his celebrated parents Nick just couldn't help but be an outstanding youngster and will be a prepotent sire in years to come.


This boy is going places! Look for CH Edison's Nick of Time as a top ranked Special. He has the structure, movement and looks that a top Special is made of.


The proof of a stud dog is what he produces. Nick's first litter was out of CH Foxwarren Contessa. The litter certainly stands witness to Nick's prepotence as a sire and his value in years to come stamping his outstanding angles and type. One of those pups, Edison's Tag I'm It, started his show career with a bang by winning the 4 to 6 month Puppy Dog class at the 2005 Gold Coast Open Trial.


CH Edison's Nick of Time is BAER normal and is CERF clear as of October 2006 and is currently standing at stud to approved bitches in Sweden.