If a breeder is very lucky, once in a lifetime a dog comes along that competely steals your heart and owns your soul. The year 2001 was a great one because that is the year that Simon came into this world and into my life.
CH Foxwarren Simon of Edison hit the AKC show ring at eight months of age. He made his presence known in the AKC conformation ring from the time he walked into it. He said, "Look at me. I'm here" and look they did! Simon quickly finished his championship with five 3 point majors in a row. After a few months off to mature, Simon marched back into the show ring taking Best of Breeds against seasoned, top ranked Parson Russell Terriers. His show career was just beginning!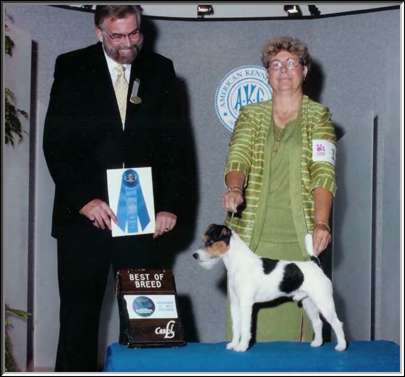 In the year 2002, Simon had numerous Group Placements under some of the AKC's most prestigious conformation judges and against the toughest competition the AKC had to offer. He went on to win the First Awards of Merit at Hatboro II and at the prestigious Montgomery County Kennel Club show, our National Specialty and the most celebrated terrier show in North America. Then in December, two months later, he went BOB at the Eukanuba National Invitational, a show open only to the top 25 ranked champions in each breed. As a result of Simon's win he received the coveted invitation to participate in the 2004 Crufts Dog Show in England.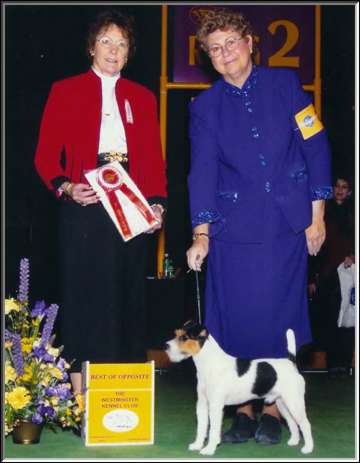 The year 2003 started off with 3 Group placements out of 5 shows at the Florida Classic in January. Then we were off to the Big Apple and the Westminster Kennel Club Dog Show in New York City's Madison Square Garden. Carol Herr and Simon together were the team, and with Carol's expert guidance Simon put on the show of his lifetime. He was awarded Best of Opposite Sex.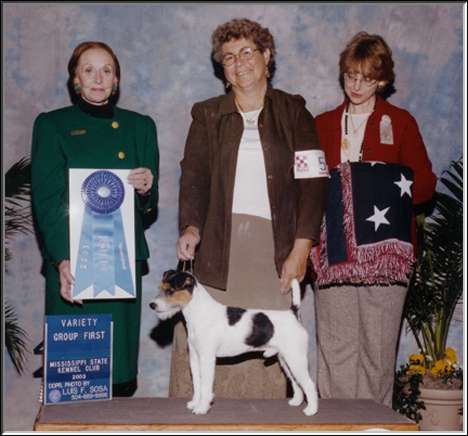 Two weeks later, Simon took his first Group I in Mississippi.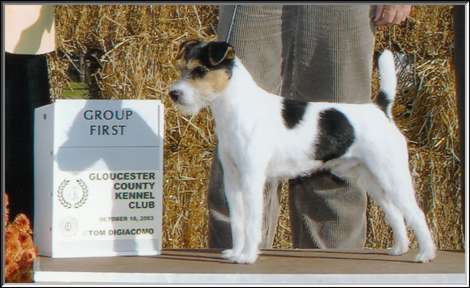 Simon went on to win a record five Group I placements for the year! After numerous BOB and Group Placements , CH Foxwarren Simon of Edison was #2 All Breed and #4 Breed Parson Russell Terrier in 2003.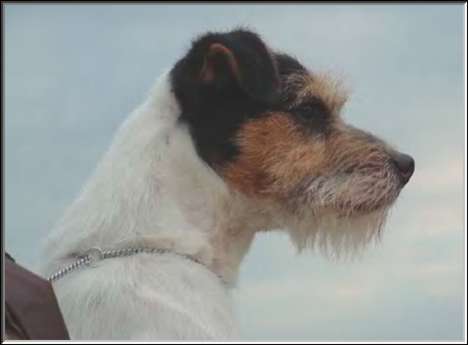 And finally, after months of preparation, the culmination of his achievements was realized when Simon flew back to his homeland where the Rev. Russell established this breed, and where his ancestors today work in the earth for the established English hunts. CH Foxwarren Simon of Edison entered the ring in March of 2004, to represent the United States as the Best of Breed at the prestigious Crufts Dog Show in England. He showed like the dog that he is and will always will be in my heart.
Simon has done it all and with the style and showmanship that only those who have witnessed his performance can understand. He is truly the dog of a lifetime.
CH Foxwarren Simon of Edison stands 13.5" with a hard, straight coat. He is a completely balanced terrier of the traditional Dodger type. Bred to win and built to work, Foxwarren Simon of Edison stands at stud to approved bitches.
Along with his many other accomplishments, at the 2006 PRTAA National Championship, CH Foxwarren Simon of Edison was one of the first terriers inducted into the Conformation Hall of Fame for Parson Russell Terriers. A great accomplishment for a great terrier!
Simon is BAER normal and CERF clear (July 2007).