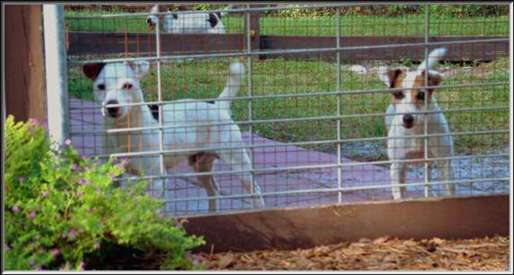 Foxwarren Rocky (Foxwarren Tulsa x Foxwarren Trump II) and Foxwarren Tara (Foxwarren Sport II x Foxwarren Pudding) were more than kennel mates. They were soul mates. Tara won many top placements as a young female in the JRTCA. More recently she made a tremendous contribution in the AKC with her daughter, CH Edison's Tennessee 'N Time and now two winning grandsons, Nick and Tom. Unfortunately, Tara crossed Rainbow's Bridge in May, 2004.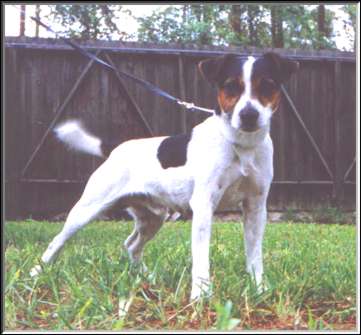 Edison's Tiger JE (Foxwarren Warrior II x Foxwarren Ghost II of Edison)
On May 30, 2006, Tiger told me it was time to cross over the Bridge. The vet confirmed it was untreatable. As I drove home, all I could think about was how he came to me, conceived in England and born in the USborn to work! Edisons Tiger was an energetic terrier to say the least. Eddie Chapman evaluated him at 8 weeks, named him and said, Aye, hes the one to run on. and from that point on, Tiger never stopped running!
He loved to show, well, he loved to show for someone else and stand up looking for mom outside the ring at the JRTCA trials. He won numerous Best and Reserve Working Terrier. He enjoyed go-to-ground and has his JE certificate from the KC. But thats not what I remember about Tiger.
I am celebrating his life today as an earth working terrier. He hunted every time we took a road trip. Eddie and I only managed to work the terriers 10 to 14 days yearly, but Tiger worked almost every day and came home with only a minor battle wound. He was sensible, clever, and would bay until you dug to him. He would honor his kennel rival, even coupled with him to a tree, in the hunt field. We had to move rolled bales of hay for opossum and dug out creek beds for groundhog. I still remember Tiger in that earth baying and Eddie saying, Cup o tea, Bon and hed sit with a smile listening to his lineage work in the US.
As I said good bye to my friend today, all I could say to the veterinarian was, Tiger was one of the best hunting dogs Ive had the pleasure of working. I guess that pretty much says it all. Good-bye my friend.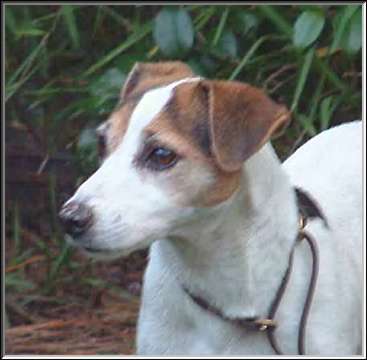 Edison's Peppermint Patti (Foxwarren Rocky of Edison x Foxwarren Cindy of Edison)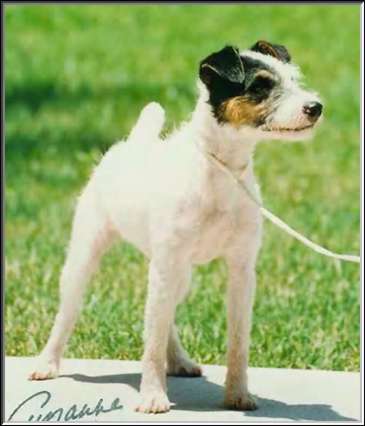 Foxwarren Smarty III of Edison (Foxwarren Dodger II x Foxwarren Baffle)
Smarty, a Foxwarren Dodger II daughter, was my first Jack Russell from Eddie Chapman. She came out of her crate bouncing and never stopped. Smarty sparkled. She was the BEST hunting terrier in her day bounding in and out of earths and never stopping until she got her quarry.
She won Puppy CH under an English judge at her first show, a sanctioned JRTCA trial. The next show she was Puppy G-T-G Champion her first time out. I remember the sanctioned earth working judge spanned her, looked up and said, "She's one of the good ones." She was a top notch working bitch.
Her first hunting trip in the car, Smarty wouldn't stop spinning and barking in her crate no matter what we did. Then silence. I looked back and a friend from Germany was smiling...there sat Smarty with a big marshmallow in her mouth! I will always remember her face that day. When she wasn't able to hunt with Eddie and I, she was the property's top pest controller, although she would eat whatever she killed from lizards, rats, and even a couple harmless black racers.
Smarty taught me to trust her instincts. One day in the field, she kept going in and out of earths but not finding anything. I thought she was just unsettled and ask a fellow terrier man to allow his veteran dog to try. Nope, nothing home, she's right. The "boys" decided to have lunch at the truck and I, frustrated, was off with Smarty to find quarry. We didn't get more than 200 yards from the truck, she dove in the sett, and opened up baying! I sat down, listened to her voice and smiled.
On June 2, 2006, my beloved Smarty crossed Rainbow's Bridge to hunt in the fields and with her buddies. Smarty will own my heart and be in my memories for the rest of my life.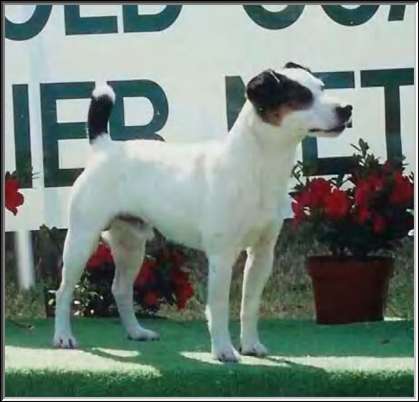 White Spirits Imp of Edison (Foxwarren Sport II x Foxwarren Ratty) scampered into my life in March of 1993 and still remains in my heart to this day. I knew he would be an important asset to this hunting kennel with his size, "impish" character, and wonderful structure for an eleven inch stud dog. But nothing was as wonderful as to have Imp at the end of a show lead! He loved showing just as much as Simon loves it and his "on his toes" attitude won him many conformation championships. Imp crossed over to Rainbow Bridge and to this day the loss of him still aches. He was such a special little terrier, so full of life, so happy all the time and so very much a terrier in every way. Imp will always be remembered and loved as the special little guy that he was.
Foxwarren Cindy of Edison (Foxwarren Tiger III x Foxwarren Cheeky)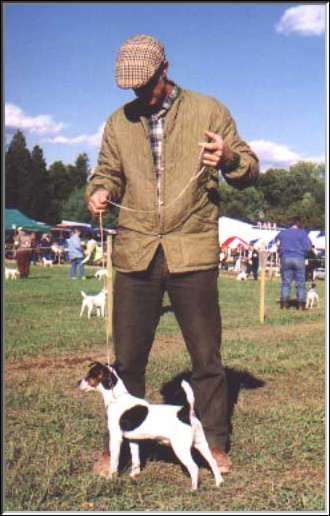 Edison's Tiger JE and Geoff Burnhill at the JRTCA National Trial

CH Foxwarren Contessa was the second terrier in the US to achieve her AKC Championship in only a few Florida shows. Not only did she give the world some very sweet, loving and beautiful pups, but she became the surrogate mother for any puppy on the property and taught many how to play and respect others with her gentle teachings.
Contessa is now residing with my cousin and his black lab in Pittsburgh, PA. During the car ride from the airport to his home, she endeared herself as only Contessa can with her sweet temperament and warm smile. She came out of the crate, curled up next to him on the sofa and has become the true "Contessa" of this home.