From the time CH Edison's Tennessee 'N Time gaited as a puppy, she made herself known at this kennel. Her flawless movement and traditional style marked itself in the ring as a puppy. TNT finished her Championship with successive major wins and even gave the specials a run for their money as a young female.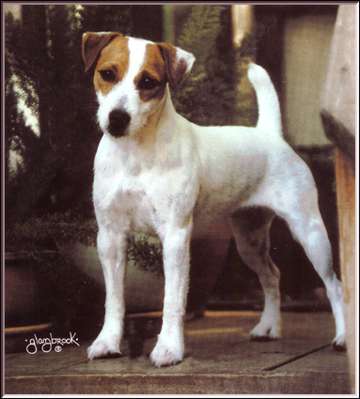 TNT went to California at 13 months of age to start her career as a Special, and TNT exploded with Bill and Taffe McFadden! In 2002, CH Edison's Tennessee 'N Time was ranked #3 in Breed and #2 bitch in the country.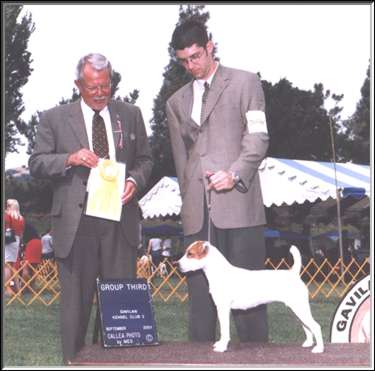 Week after week TNT went BOB and often with Group placements in some of the toughest terrier groups in the country.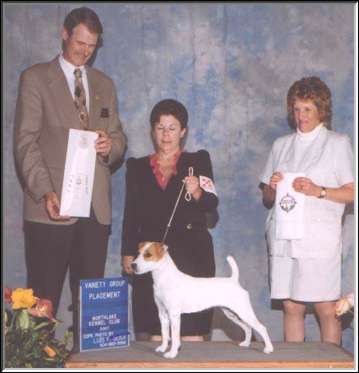 TNT is now home and her progeny is starting and winning in the UKC and AKC venue. This year she will share a part of heritage and join the ranks of her heritage as a hunting Parson Russell Terrier. TNT is truly a special terrier. Not only has she amassed a prestigious show record but her sons from her first litter are already making their mark on the show world.




Her son, CH Edison's Nick Of Time (left), hit the AKC ring and his first weekend out went Best of Breed over two top ranked Specials. The next day he went BOS, again over a top ranked Special. Nick's next weekend out he went BOB both days over the pro handled, top ranked specials.

TNT's other son introduced himself to the UKC show ring for his first show and CH Edison's TNT Aftershock (right) impressed the judges enough to go Reserve BIS. In his debut, Tom entered the AKC ring with his mom's charisma and won Best of Breed under Mr. Edd Biven. His next weekend at the Mountain Cluster in Salem, VA he was WD four of the 5 days, BW and BOS over a top ranked special.

A daughter from that same litter, Edison's Spot of T, will be bred in 2007. Spotty has all of her mom's zest for living, her substance, her almost smooth coat and her overall quality.

TNT's Simon daughter, Edison's Simone, produced a litter of 4 boys and 2 girls sired by CH Posey Canyon Storm Watch. You'll see Simone's kids in the show ring at the end of 2006. Simone is also BAER normal and CERF clear May 2006.

It is evident that her progeny is already following in mom's paw prints.

CH Edison's Tennessee 'N Time is BAER normal and CERF clear July 2007, at 7 years of age.